Indications for use: Designed for pre or post-surgical patients, mild symptoms of venous diseases without significant edema.
Features:
Thigh high with anti-slip silicone band
Comfortable to wear and with Inspection opening
Graduated compression
Latex free
Compression class:
Size:

Features of graduated compression
Medtextile medical compression stocking provides pressure to the veins with 100% pressure at ankle area. Compression lessens gradually when it comes to calf(70%) and thigh(40%) region. The characteristic of graduated pressure on the hosiery advances all veins to be compressed in a normal and healthy way.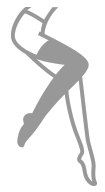 Colour :

white